GORE® Aerospace Ethernet Cables - Termination Instructions - Glenair® El Ochito® Connector System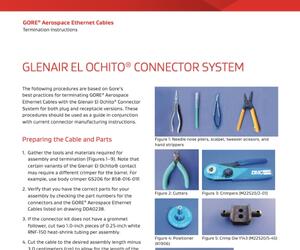 Technical Information, 英語
W. L. Gore & Associates developed the following procedures based on our best practices for terminating GORE Aerospace Ethernet Cables with the Glenair El Ochito Connector Systems, including both plug and receptacle versions. By following these steps, you can maximize the performance of your assembly in avionics networks, cabin management systems, digital video systems, Ethernet backbones and other aviation networking applications.
Check out the Termination Instructions and follow the detailed, step-by-step guidance.
---
Please note: While these Termination Instructions offer a helpful guide, they should always be used alongside current connector system manufacturing instructions for best results.
About the Termination Instructions
These Termination Instructions are intended solely for terminating Gore's Ethernet cables with the plug and receptacle versions of the Glenair El Ochito Connector System. They first detail the tools and materials you'll need, which include:
Needle nose pliers, scalpel, tweezer scissors, hand strippers and cutters
Crimpers (M22520/2-01)
Positioner (K1906)
Crimp Die Y143 (M22520/5-45)
Braid brush
Probe/pick
Preparing the cable and parts, terminating the crimp socket connector (Termination A) and crimp pin connector (Termination B), closing the connectors and performing required testing are all covered thoroughly with easy-to-follow, step-by-step instructions and visual aids, like photos, to help you ensure proper termination.
Performing Required Testing
Before closing the connectors, you should perform all required testing. Gore recommends that you complete the following steps at a minimum. You may be required to complete additional testing by local authorities and/or end-users.
Verify proper wiring and continuity
Check for shorts
Verify accurate assembly length
Contact a Gore Representative for More Information or Assistance
Terminating Gore's aerospace wires and cables properly with connectors ensures high-speed data transmission with optimal signal integrity. These assembly termination instructions should only be used for GORE Aerospace Ethernet Cables with the plug and receptacle versions of the Glenair El Ochito Connector System. To learn more about Gore's high-speed data cables or to request complimentary samples in 48 hours, contact a Gore representative today.